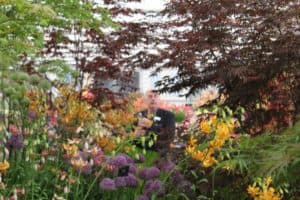 Jacques Amand International
For over 90 years, Jacques Amand has offered flowering bulbs of many varieties to discerning gardeners. The company began as a flower shop in the Strand when Jean Jacques Amand arrived from the Netherlands in 1927. Since then the company has grown to become a major supplier of bulbs from well-established favorites to the rare and unusual, and is renowned for the diversity and quality of bulbs offered to customers in many countries.
Still a family business, Jacques Amand participates in many world famous flower shows annually. Come and see our award winning displays at the Chelsea Flower Show (May, UK), the Philadelphia International Flower Show (March, USA), the Hampton Court Palace International Flower Show (July, UK) as well as many regional shows and events in the UK. John Amand, company Director, often lectures on rare bulbs at large gardening groups and associations.
Quality: We supply top size, quality bulbs. For shortages, grown not true to name, loss, damages or for any reason are unacceptable, please write to us within 7 days after receipt of goods. Telephone calls of the same should be confirmed in writing within 7 days. Subsequent growth, vigour etc are not factors which we have control of, so cannot guarantee. Please do however let us know of any problems to see if we can help solve them or offer a refund or replacement.
Photos: Our pictures are as a guide only. Some colours of the flowers may vary slightly and may not be an exact copy of what is shown.
Variety: We offer a vast variety of bulbs, but should you require something not found on this website, please contact us. We may have it in stock or can find a source that does.
Wholesale: We encourage wholesale orders to the trade and customers requiring large quantities. Please contact us for additional information on terms and conditions.
All our bulbs are available for viewing but only the bulbs that are in the season will display prices. Should you wish to pre-order for the next season, please contact the nursery directly (see Contact Information below.)
Payment: We use PayPal to service all our online credit card sales. This does not require you to have a PayPal account, and permits you to use the credit card of your choice. With PayPal, your online purchases are protected as PayPal encrypts your sensitive financial information so the only person who can see it is you. We offer our customers the option of payment in GBP (£), USD ($) or Euros (€). You choose your payment currency.
Contact Information:
Enquires: [email protected]
Address: Jacques Amand International Ltd, The Nurseries, Clamp Hill, Stanmore, Middlesex HA7 3JS
Telephone (In the UK): 020 8420 7110
We welcome visitors to the nursery where we hold an extensive stock of bulbs in season. However, if you wish to purchase something in particular, we encourage you to call us before you arrive to ensure availability.
We are open Monday to Friday 9:00 am – 5:00 pm.
Saturdays: Seasonal opening – Please Contact for Details
Jacques Amand International Ltd